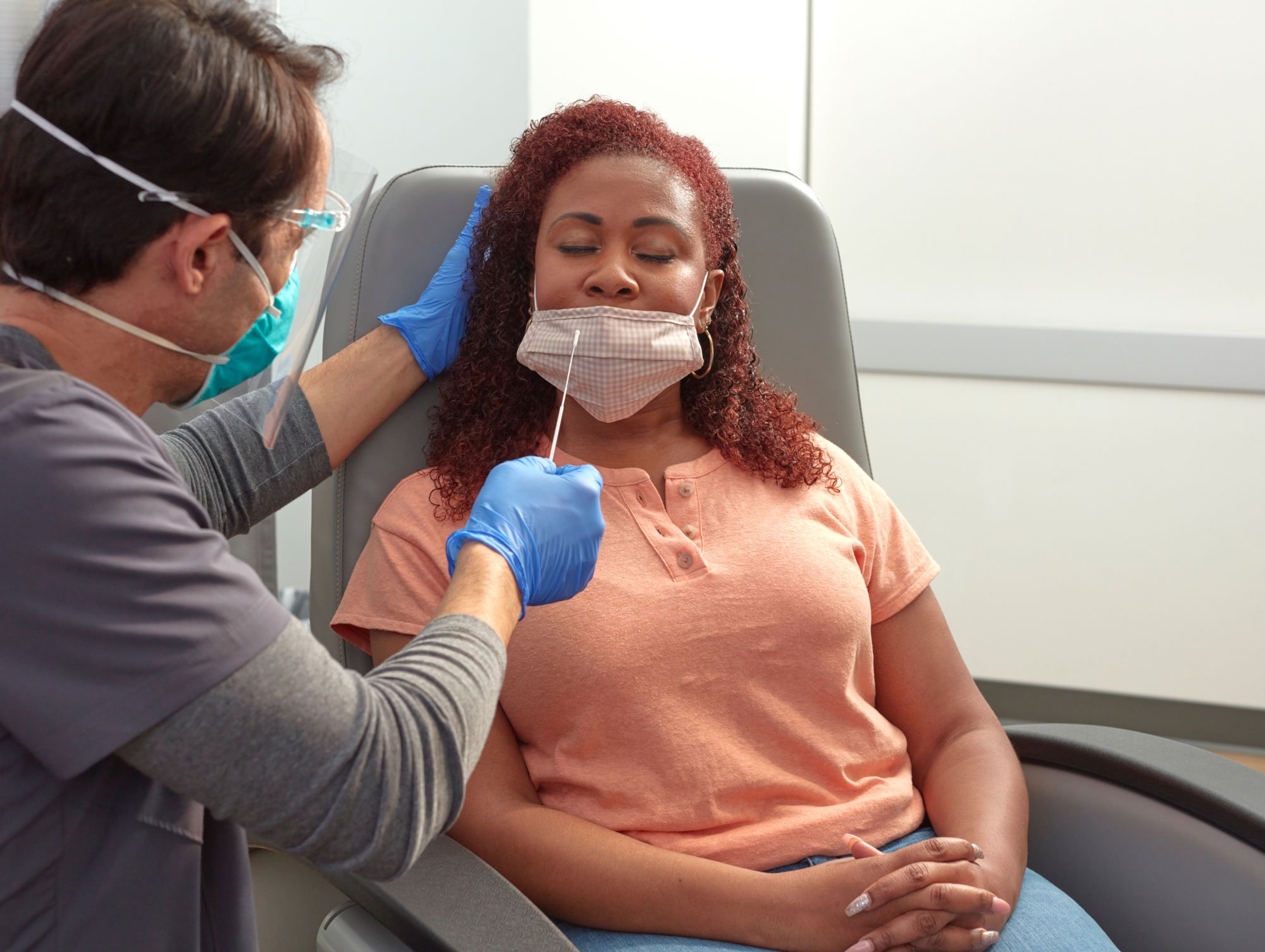 Updated December 7, 2020.
We have tested hundreds of thousands of patients across the country for COVID-19 since we began testing in early March. Here's the latest information on our testing services, when it's most appropriate, and how you can get care.
Who should get tested for COVID-19?
One Medical is providing COVID-19 testing for anyone who has coronavirus concerns, regardless of symptoms. While we continue to believe that widespread testing is essential to curbing the spread of coronavirus,
Timing matters: Being tested within the first few days of symptoms or 5-8 days after a potential exposure if asymptomatic is currently thought to provide the most accurate results. Testing too early or too late could miss the infection (a so-called "false negative" result). For example, when returning from travel, immediate testing is unlikely to give you complete information about exposure during your trip. Please also keep in mind that a negative COVID-19 test result does not necessarily override locally-mandated quarantine where these measures are in place.
Given the current case levels and testing constraints our nation is once again experiencing, we continue to urge people to follow the CDC's guidance on how to protect yourself and others from spreading COVID-19. One Medical's highest priority is to ensure the health and safety of our members and our communities. We will continue to work in close coordination with the departments of public health in all the markets we serve, and keep you updated on the latest guidance.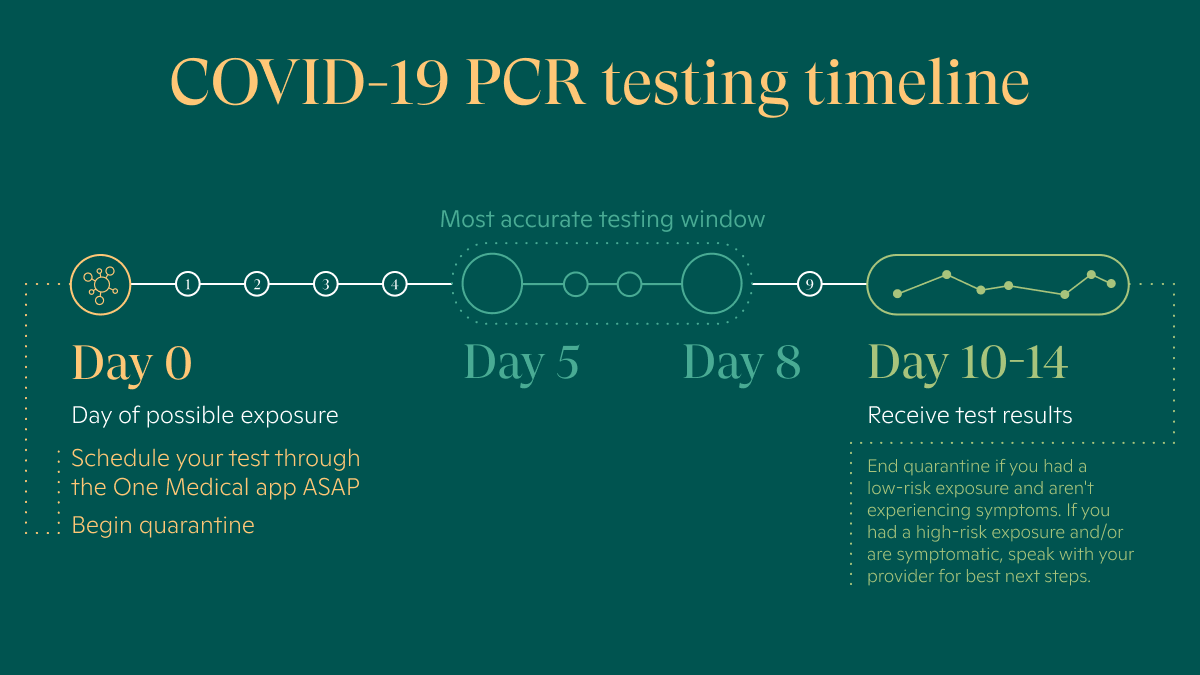 How do I know which type of test to get?
PCR tests are used to detect whether you have a current COVID-19 infection. This is the highest quality test for COVID as it detects the virus's genetic material. It can be used to identify infection for those with and without symptoms using a nasal or throat swab.
Rapid antigen tests detect specific proteins on the surface of the virus. For people who have active symptoms of infection, antigen tests are very good at determining whether the symptoms are due to COVID-19. While antigen tests can be read within minutes, they're less sensitive than PCR tests, and therefore more clinically useful among symptomatic patients. Accordingly, we recommend PCR for most patients, though your provider will determine what testing is optimal for your unique circumstances during your testing visit.
Antibody testing is used to detect past exposure, not an active infection. It is not yet known whether the presence of COVID-19 antibodies determine immunity to the infection. Because antibodies to SARS-CoV-2 begin to wane within weeks of infection, for most people antibody tests won't yield helpful information. Learn more about antibody testing here.

Where is One Medical testing patients for COVID-19?
We're currently offering PCR testing to anyone with coronavirus concerns by appointment in all markets where we have offices, including Atlanta, Boston, Chicago, Los Angeles, New York, Phoenix, Portland, San Diego, Seattle, San Francisco Bay Area, and Washington D.C. Antibody testing (a blood test) is also available by appointment in certain locations.
Is One Medical testing kids?
We are testing kids 14 and younger at all offices in locations where we offer pediatric services, including the San Francisco Bay Area, New York, Phoenix, Chicago, Los Angeles, Orange County, and Portland, by appointment. Children over the age of 14 can be tested at any One Medical location in all markets with an appointment.
If you have questions about your child's symptoms, or your child needs to be examined, it is best to book a "sick visit" with one of our Family Practice providers. COVID-19 testing appointments are for testing only, while "sick visits" allow for time with a provider to ask questions and examine your child. Of course, you can always reach out to our virtual medical team with more urgent concerns. Please note that if multiple kids are being tested, each family member needs their own appointment, which can be booked on the One Medical app. For more information on COVID-19 and kids, see here.

How do I get a test?
We offer two different types of appointments through which you can be tested for COVID-19. When you click on "COVID-19 Testing" in the One Medical app, you will be presented with two options: "COVID-19 PCR Test" and "COVID-19 Symptoms Consult & Testing". If you are looking to receive testing only, select "COVID-19 PCR Test." This is a five to ten minute appointment at a One Medical office or testing site, intended for those seeking access to testing alone. If you would like more time with a provider to review your symptoms, select the second option, "COVID-19 Symptoms Consult & Testing." This is a 30 minute appointment offered in our offices only, intended for individuals looking to be examined and personally discuss their symptoms and treatment plan in addition to completing all relevant testing.
Appointment availability will vary based on the testing demand in your area at any given time. Please know that we are doing all that we can to provide testing for everyone who needs it. If there is not an appointment available at your desired time and location, we recommend continuing to check within the app, as new appointments are added as testing slots open up throughout the day.
How much does testing cost?
One Medical is not charging any fees directly to patients for testing services or specimen collection. However, the labs processing these tests are. While most national insurance payers have committed to covering these testing costs, you may receive a bill from the lab if you are uninsured. If you receive other services in addition to COVID testing in the same visit, you will receive a standard bill for the additional services.
How long does it take to get back results?
As COVID-19 cases continue to rise at unprecedented levels across the United States, the demand for testing has increased significantly in recent weeks. While testing facilities, laboratories and hospitals have ramped up operations to provide critical resources and care since the onset of coronavirus, the surge in testing demand is once again straining the healthcare system. In particular, major labs that process COVID-19 tests are experiencing capacity restraints that are causing delays in test result turnaround times and supplies. One Medical is hyper-focused on finding solutions to lab result turnaround timelines in order to provide our patients with results in a manner that is most helpful to them and to wider contact tracing efforts.
Can I get tested in order to travel?
As COVID-19 cases continue to surge, the CDC continues to advise that people avoid unnecessary travel. It's also important to remember that a negative COVID-19 test doesn't eliminate the risk associated with travel. If you must travel, be sure to check local requirements for the location(s) you are visiting and returning to ensure you comply with their health and safety laws, rules, and regulations, which may include providing test results before and/or after travel. At this time, One Medical cannot guarantee that our test results will be available in the time required and may not meet the specific needs for some destinations. Some airlines and destinations, for example Hawaii, will provide a list of approved lab partners and locations for COVID-19 testing prior to departure. Our PCR test results are processed by outside lab partners, and turnaround times can vary from 48 hours to up to seven days, depending on testing demand at any given time.
The One Medical blog is published by One Medical, an innovative primary care practice with offices in Atlanta, Boston, Chicago, Los Angeles, New York, Orange County,Phoenix, Portland, San Diego, the San Francisco Bay Area, Seattle, and Washington, DC.
Any general advice posted on our blog, website, or app is for informational purposes only and is not intended to replace or substitute for any medical or other advice. The One Medical Group entities and 1Life Healthcare, Inc. make no representations or warranties and expressly disclaim any and all liability concerning any treatment, action by, or effect on any person following the general information offered or provided within or through the blog, website, or app. If you have specific concerns or a situation arises in which you require medical advice, you should consult with an appropriately trained and qualified medical services provider.